Memory Foam Mattress Toppers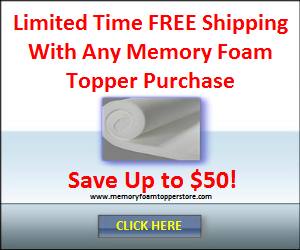 Memory foam mattress toppers are designed to sit on top of your existing mattress to make it more comfortable for you to sleep on.

Even though they come in different densities of foam, they are said to make your coil, air or water mattress feel better.

A memory foam topper of the proper quality and density would be more comfortable if your mattress is just too firm and you're trying to soften up the feel a bit.

It's not meant to be a replacement for an old, tired and worn-out mattress.

If you aren't familiar with the term density regarding foam products, you should check out my monthly video e-zine, "Gifts, Gadgets and Goodies" and you'll also receive the free report The 5 Fatal Mistakes That People Commit When Buying a Memory Foam Mattress and How to Avoid Them.
Putting a memory foam mattress topper onto an old mattress, especially a worn-out one, defeats the whole concept of the way memory foam is supposed to work.

Memory foam provides its unique comfort only when it does all the giving from the top down and is supported totally at the bottom.

Sitting a memory foam mattress topper onto a worn-out mattress that's on a boxed spring is an exercise in futility. The topper is going to sink in everywhere the mattress or boxed spring sags, nullifying the way it's designed to work.

If you say any relief at all is better than nothing and if you realize that a memory foam topper isn't meant to replace a memory foam sleep system, then let's go ahead with our discussion on toppers and what benefits you can expect from them.

Memory foam mattress toppers, also called bed toppers or bed pads, are made in various thicknesses and densities.

The most common and, therefore, cheapest memory foam toppers are about 2" or so in thickness. There are a couple of really cheap ones that measure 1 1/2" thick. The best ones are 2", 3" and 4" thick and of a denser material than the cheap ones.


If you have a choice, always try to buy the 4.0 lb. to 4.5 lb. density toppers. This is because they provide the best support and their ability to last for several years make them a great investment.
The low-density toppers of 2.5 lb. to 3.5 lb. will only continue to recover from your weight for about 10 to 12 months—maybe a couple of years at most. After that, they will start to flatten out and show body impressions.

Remember never to place a mattress pad on top of your mattress topper because memory foam works off of your body temperature and anything you place between your body and the temperature-sensitive foam will greatly diminish the way your topper feels.